10/05/2023 - 12/05/2023
All Day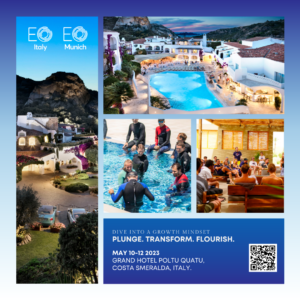 Plunge, transform and thrive in exotic Costa Smeralda, Sardinia, Italy on 10-12 May 2023
Did you know that true growth occurs when we step outside our comfort zones? Are you ready to learn how to thrive in high-pressure situations like a Navy Seal? Don't miss this once-in-a-lifetime opportunity to join 30 EO'ers in a two-day learning experience, to plunge into a private pool in order to learn from a Navy Seal instructor and a renowned business school professor how to cope in adverse conditions.
Led by world-renowned experts Dr. Liraz Lasry and Tom Peled, this transformative two-day workshop in a luxurious 5-star hotel in jet-set Sardinia will provide you with the tools to develop and maintain balance, resilience, clarity, focus, mental control, and creativity, in both life and business. Dive deep into hands-on experiences, including mindset transformation, breathing techniques, water training, teamwork simulations, and preparation for peak performance. Engage with other EO members from across Europe in borderless forums, and grow together, while discovering the secrets and exquisite wines of ancient Sardinia.
Meet Your Expert Trainers:
Dr. Liraz Lasry: Management & Business Professor, international keynote speaker, and growth mindset expert (https://www.lirazlasry.com/en/executive-retreats-2/)
Tom Peled: Former Navy Seals officer, professional freediving athlete and coach, and breath and peak performance expert (https://freedivecafe.com/2021/11/19/tompeled/)
Book now to secure your spot and join fellow EO members in this unique and unforgettable experience in a stunning Sardinian setting on 10-12 May. Spaces are limited and flight prices will go up, so act fast and prepare to plunge, transform, and thrive.